Public places can be pretty difficult for people with visual disabilities to navigate. In recent years, sidewalks have transformed to incorporate textured paving. It allows such people to enjoy the public pedestrian environment. More than 285 million people have partial blindness or have low vision in the world. Unfortunately, the graph is rising due to the growth of the ageing population. The installation of tactile pavings is improving their mobility. This detectable warning system was first implemented in Japan and then replicated worldwide.
Tactile tiles are textured paving surfaces designed to cater to visually impaired pedestrians. It delivers touch and visual warnings for people with visual disabilities. The texture on tiles features a series of bumps in a "truncated dome". Thus, making it safe and recognizable to walk on.
Why Are Tactile Tiles Brightly Coloured?
Tactile tiles have a distinct colour from the sidewalk. You will spot them almost everywhere. It creates contrast and becomes easily distinguishable for people with poor vision. It is helpful for people with visual disabilities that do not use canes or other mobility tools.
Different texture patterns have different meanings fulfilling versatile purposes. These products come in either mat form or individual tiles.
Top 5 Benefits of Tactile Tiles for Visually Disabled People: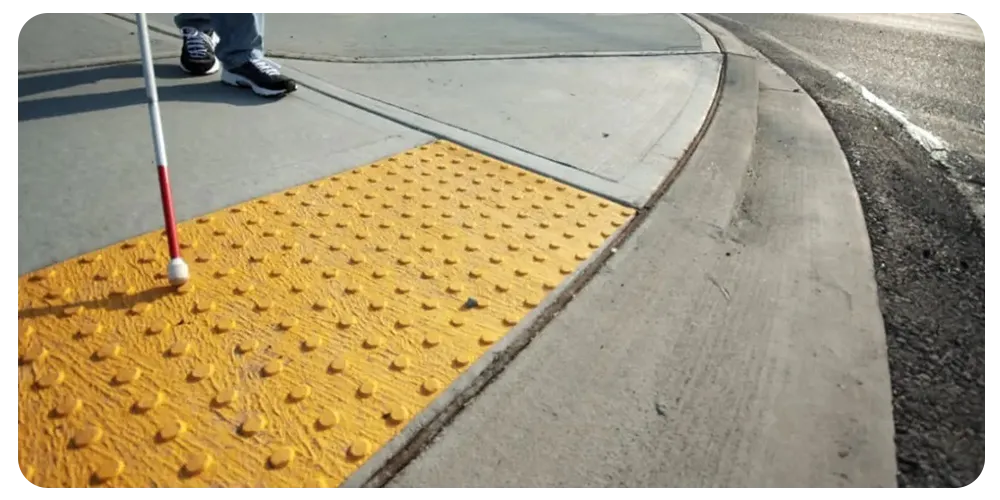 The installation of tactile tiles enables people to enjoy the pedestrian environment. Their textured surface rises 0.2 inches from the ground. It indicates the visually disabled when they reach an entrance to a crossing. The presence of these truncated domes, cones, or bars is easily detectable by footwear or a long cane. It is also audible when tapped with a guidance cane. Also, tapping on truncated domes creates a unique sound. Thus, making it distinguishable from the path or walkway.
Tactile tiles are known as detectable warning tiles. They have a series of truncated domes. They work as a tactile warning system for a large variety of projects, including:
Walkways
Curbs
Transit platforms
They serve as tactile pathways. They create a system that allows people with visual disabilities to navigate a space. Tactile tiles alert them when approaching hazardous surfaces, busy streets, or grade changes. Tactile pavings play a crucial role in keeping them safe even when unaided.
Another benefit for the visually disabled is the anti-slip feature of tactile tiles. They maximize the slip resistance making the surface safe and comfortable for all. Tactile tiles are available in different sizes to suit your unique project needs. Also, they can be cut into customized sizes without breakage.
Tactile tiles are manufactured in a wide range of colours. Installers select a contrasting hue to distinguish it from surface tiles. Colour and contrast have a strong impact on visually-impaired people. So, it is crucial to choose tactile paving with significant colour contrast. The concept of "luminance contrast" helps pedestrians distinguish between the walkway limitations and potential hazards. Types and sizes range from highly durable materials that are long-lasting. However, they are also manufactured in inferior materials that wear out quickly. People with visual disabilities are more likely to notice bright colours like yellow. Thus, installing yellow tactile tiles is the right choice.
Tactile tiles are very useful in assisting directions. They aid in maintaining a self-sufficient and dignified entry into the community.
Busy streets are difficult for people with vision impairment to navigate. They are unfamiliar with the hurdles that may be present in their path. Tactile paving consists of textured tiles. It forms a guiding path that is detectable through the cane or sole. Some tactile tiles feature directional pointers. They are installed as rectangular strips on the floor surface. These directional tactile are useful for street crossings and in public transport areas.
Tactile indicators are tools designed to assist visually-impaired people. They are mainly used in dangerous places to alarm them about the danger ahead. Areas like curbs, stairs, platform edges. Plus, the places where different obstacles are usually difficult to navigate. The noise and crowd make it worse too. Helping them with tactile indicators saves them from potential hazards. It guards them against obstacles on their path.
Where Can I Find Tactile Tiles?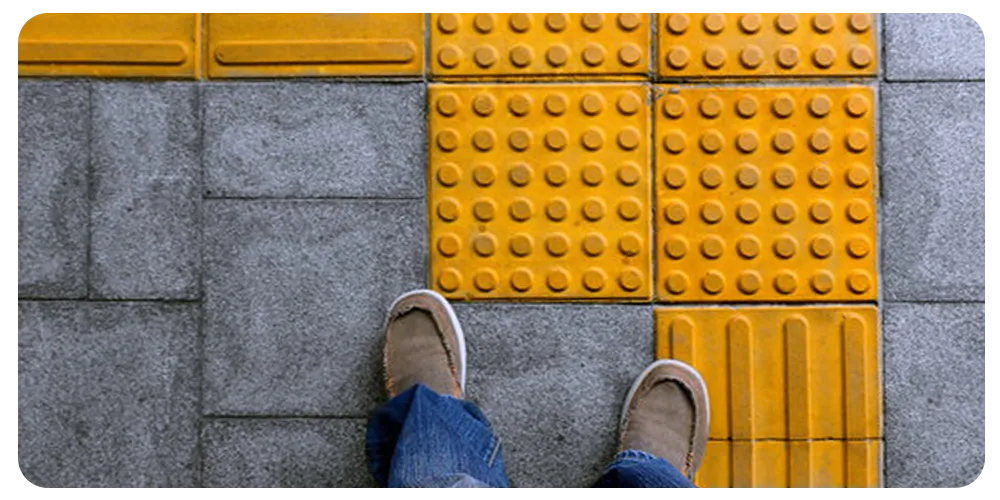 Excess usage of smartphones causes people to trip while walking. Many of them forget to watch out in traffic. It reduces pedestrians' field of vision and distracts their situational awareness. Tactile tiles are brilliant indicators. They indicate traffic messages and traffic light status. With that, phone users will see the traffic messages on tactile tiles. As it is in their field of vision while using a smartphone. You will find tactile at all these places:
Pedestrian crossings – controlled and uncontrolled
Traffic islands
Bus stops
Car parking
Curbs and steps
Uses Of Tactile Tiles:
Tactile tiles create a safer commute for the visually impaired. They are useful for many situations, including:
The top and bottom steps
Level crossings
The foot of a ramp to a street light rapid transit platform
Where a footpath and footway join a shared route
Where visually-impaired people could walk to a railway platform.
They serve as a great navigation tool for assisting people with visual impairments. They should be installed in safe areas and in a consistent manner.